Género
: Rock progresivo, Art Rock
Grabado
: 1976, en Seer Gree
Lanzado
: Junio 1976
Disquera
: Atlantic Records
Ilustración
: Dave Roe / Hipgnosis
Productor
: Jon Anderson
Artista
: Jon Anderson
Track List
Ocean Song – 3:05
Meeting (Garden Of Geda) / Sound Out The Galleon – 3:34
Dance Of Ranyart / Olias (To Build The Moorglade) – 4:19
QoQuaq Ën Transic / Naon / Transic Tö – 7:08
Flight Of The Moorglade – 3:24
Solid Space – 5:21
Moon Ra / Chords / Song Of Search – 12:48
To The Runner – 4:29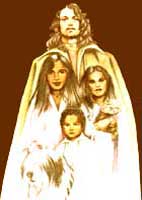 Olias of Sunhillow
es una obra conceptual, viene después del
Relayer
(1975) cuando todos los miembro de Yes decidieron airear sus aspiraciones individuales con trabajos en solitario (del mismo periodo son
Fish out of Water de Chris Squire
; Beginnigs de Steve Howe, Story of I de Patrick Moraz y Ramshackled de Alan White).
Inspirado en los escritos de Ver Stanley Alder, Jon Anderson desarrollo la historia para su primer album en solitario, acerca de un éxodo interestelar del planeta Sunhillow. Para escapar del planeta tres semidioses se avienen para rescatar a los habitantes: Olias, Quoquaq y Ranyart, fabrican la nave Moorglade donde todos se embarcan en el mencionado viaje.
Desde el punto de vista composición e interpretación es un gran esfuerzo de Jon, quien compone todos los temas e interpreta todos los instrumentos, y por primera vez es asesorado por Vangelis en un preámbulo de futuras colaboraciones (Jon & Vangelis).
Hay abundancia de sonidos de teclados, percusiones étnicas, arpa, coros, guitarra acústica, sin duda es la obra cumbre de este excelente y talentoso músico. La letra de las canciones muestra el mejor estilo místico-críptico característico de Jon Anderson.
A mi manera de ver, este ha sido el mejor trabajo de Jon, nunca mas ha creado algo remotamente parecido, en sus otros trabajos en solitario, es un ejemplo de Rock Progresivo o Art Rock de una persona que se encontraba en ese momento en la cúspide de la creatividad musical.
El empaque del LP original es una auténtica obra de arte, pues ademas de las excelentes ilustraciones incluye la historia original escrita por Anderson. Ademas se puede ver una bonita ilustración (ver arriba) de Jon con su familia en ese entonces (1976) Jennifer su primera esposa, Deborah su primera hija y el aún pequeño Damion
Les dejo este video con una animación de ilustraciones de Roger Dean, la canción es el final del album "To the runner"